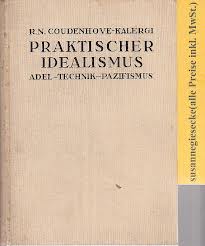 Count Richard N. Coudenhove-Kalergi Praktische Idealismus/ Practical Idealism (and Other Works)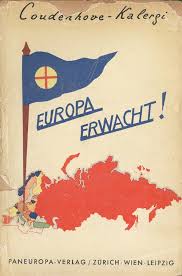 Strange German-Japanese Cross Breed, Publicist with Zionist and and Freemason Contacts.
Funded by Jews, His Work Helped Deliberately Damage Europe, June 14, 2014
[big-lies.org
nukelies.org]
v. 2016-11-07 22:10
---
Richard Nikolas Eijiro Graf Coudenhove-Kalergi (1894-1972) has become increasingly famous among white nationalists and opponents of the European Union. The earliest online reference I'd found is dated January 2008, by Christopher Jon Bjerknes, on http://www.jewishracism.com. In more recent years Coudenhove-Kalergi has appeared in Danish, Italian, Greek, and English-language sites (including this one, now) and no doubt elsewhere. | How to pronounce "Coudenhove-Kalergi"

It's claimed Coudenhove-Kalergi has been erased from the historical record; and indeed my rather randomly collected reference books show little sign of him. My books on the E.U. and its history; on racism and the denial of races; and on Judaism, futurology and so on, show almost no sign of him. I could only find Booker & North's The Great Deception: Can the European Union Survive? which has a bit of information at the start of their book, but although very detailed is hopelessly Jew-unaware. The 1976 Encyclopæedia Britannica's Micropædia, (below, left) has nothing. However, Who's Who of 1948 (below, right) has a helpful entry.



Who's Who, 1948

Historical Addendum: It's unlikely that the funding of Coudenhove-Kalergi was the only example of subversion paid by Jews. I'd suggest the British Philosophical Radicals (Bentham et al) might have been analogous, as were many religious movements, for example Quakers. If you find this article alarming, bear in mind it's likely to be just one sample from a large sample space.

The secretive intestinal workings of the E.U. reveal a 'Charlemagne Prize Medal' was first awarded in 1950 to Coudenhove-Kalergi. Presumably this symbolises France and Germany as a more-or-less unified entity; the Anglosphere was assumed by Coudenhove-Kalergi (and others, such as Churchill) to be outside Europe. Recipients of this 'prestigious award' include numerous war criminals, sexual deviants, liars, Freemasons/ Common Purpose/ Bilderbergers, and nonentities: for example Churchill, Edward Heath, Kissinger, Tony Blair, Bill Clinton, Simone Veil, Angela Merkel, and Herman van Rompuy.

From a revisionist point of view, the whole structure of the European Union seems to be designed to
[1] Support the explanation of war between Germany and France (and others) as a manifestation of irrational nationalist hatreds, not as the outcome of carefully-cultivated behind-the-scenes plans. Under this theory, the cure for war is to suppress nations.
[2] Allow Jews uncritically to print/ electronically invent unlimited money, and suppress any suggestion that Jewish money power had any part in the First (or Second) World War.
So [3] the E.U. can pretend to be responsible for post-1945 peace—such as it was. Note that Britain was not automatically part of this structure: Coudenhove-Kalergi's visions seems much less wide than might be assumed.
And [4] investigations into war profits will never be mentioned, and important questions will be buried.
All of which needs [5] An immense army of puppets, at rates of pay high enough to retain them, without any being too independent.

Coudenhove-Kalergi's submerged importance may be reflected in The 'European Society Coudenhove-Kalergi' (Uncritical commemorative website in German, French, and English).
---
Most of Coudenhove-Kalergi's emerging fame rests on two pages from his book Praktische Idealismus (below:- German pages (left); with an inelegant computer translation of the same pages into English (right)). But there is more, mostly on nobles and heroes, urban and country life, cross-breeding and inbreeding, and largely praising Jews as what he considered something like an intellectual aristocracy; bear in mind he wrote not long after the First World War when attention to Jews was still undeveloped. He seems to have believed cross-breeding of races increased variety; the idea of mongrels as non-specialised mutts is absent—perhaps for personal reasons. His books appear to be censored in Germany—reprints being forbidden.
... naive: there is also a conscious, heroic boundedness. The heroic limited - and this type are all truly great men of action - temporarily switched voluntarily all pages his being made, except for the one that determines his actions. Objective, critical, skeptical, he can consider before or after his deed be: while indeed it is subjective, religious, one-sided, unjust.
Wisdom inhibits energy - energy denied wisdom. The strongest will is ineffective, if he is directionless; also a weak will triggers strongest effect when it unilaterally is.
There is no life indeed without injustice, error, fault: who shy away from this odium to wear, the stay in the realm of thought, of contemplation, of passivity. - Truthful People are always silent: because every statement is in some sense, a lie; heart pure people are always inactive: because every act is, in a sense, wrong.
Brave but to persuade them to lie on the risk is; to act, at the risk, To do wrong.
Inbreeding builds character, weakens the mind - crossing weakens the character, strengthens the Spirit. Where inbreeding and crossbreeding meet under happy auspices, they testify to the highest type of human being the strongest character with the sharpest mind connects. Where under unfortunate auspices inbreeding and mix meet, they create degeneration types with a weak character, dull mind.
The man of the distant future will be hybrid. Today's races and castes are the increasing [22]
the overcoming of space, time and prejudice fall victim. The Eurasian-Negroid race tomorrow, outwardly similar to the ancient Egyptian, will replace the diversity of peoples with a diversity of personalities. For according to the laws of inheritance increases with the diversity of the ancestors diversity, with the monotony of the ancestors, the uniformity of the offspring. In inbred families a child is like another: because all represent a common family type. In hybrid families, the children are more divergent from each other: each is a novel variation of the divergent parental and ancestral elements.
Inbreeding creates characteristic types - crossing creates original personalities. Precursor of the planetary people of the future is in modern Europe as the Russian Slavic-Tatar-Finnish mongrel; because he, of all European nations, the least breed has, he is the typical multi soul man with the wide, rich, all-encompassing soul. His strongest antipode is the insular Briton, highly bred Einseelenmensch whose strength lies in character, in the will, in the one-sided, typical. He owes modern Europe the most closed, perfect type: the gentleman. [23]

Let's try to look into all this.

Richard Nikolaus Eijiro von [or Graf] Coudenhove-Kalergi: Life
b 1894; educated northern Italy and Vienna
1917: PhD aged about 23 Die Objectivität als Grundprinzip der Moral ('Objectivity as Fundamental Principle of Morals')
1922: Adel [='Nobility'] published. This later became the first 2 parts of 'Practical Idealism'
1923: founded Paneuropean Union and Movement and published Paneuropa
1924: "In early 1924, we received a call from Baron Louis de Rothschild; one of his friends, Max Warburg from Hamburg, had read my book and wanted to get to know us. To my great surprise, Warburg spontaneously offered us 60,000 gold marks, to stimulate the movement over the first three years .... Max Warburg, who was one of the most distinguished and wisest men that I have ever come into contact with, had a principle of financing these movements. He remained sincerely interested in Pan-Europe for his entire life. Max Warburg arranged his 1925 trip to the United States to introduce me to Paul Warburg and financier Bernard Baruch."
1924-1938: Published the journal 'Paneuropa', in which 'he did all he could to form a European confederation.' The undated publications listed in the Who's Who entry I'd guess were his articles in Paneuropa
1926: First Paneuropean Congress at Vienna. Paneuropa published
1929: Second Congress Held oder Heiliger published
1934: Europa erwacht!
1938: The Totalitarian State Against Man appears to be his first book in English
1940: New York, 'where he taught as professor of history and set up a research department for a European post-war federation.'
1943: Crusade for Pan Europe
1946: Moved to Switzerland.
1947: 'He became General Secretary of the European Parliamentary Union, which he had founded himself.'

Richard Coudenhove-Kalergi: Family
1859-1906: Heinrich Coudenhove-Kalergi and (until 1903) Graf von Coudenhove. Mixed European ancestry from areas (some of which have disappeared as placenames): Brabant, Austria-Hungary, Bohemia, Crete. Multilingual. Irresistibly reminds me of the backgrounds of people supposedly 'speaking in tongues'.
1894: his son born to Mitsuko Aoyama who 'was just the third daughter of the Aoyama family who own an antique store'

Timeline of the times and places of the Coudenhove-Kalergis might include:
1850-1904: Lafcadio Hearn popularised Japanese aesthetics and stories
1853: Japanese ports treaty by the American, Perry
1856-1860: 2nd opium war with China
1860 and 1900: sacking of the Old Summer Palace, Peking
1902-1923: Anglo-Japanese alliance: with Korea and China in mind
1904-1905: Russo-Japanese war. Jewish financed, as Jews had been turned down in 1814 by the Tsar
1914-1918: Japan in the 'Great War' or First World War. Japan, like Italy, switched sides after WW1.
1937-1938: Faked atrocities by Japan in Nanking, China
1945: Faked nuclear atrocities in Japan; genuine firestorm atrocities in Japan

Richard Coudenhove-Kalergi: Influences and Outlook
It seems that the family was aristocratic; from a revisionist perspective it would be interesting to know the relationship with Jews, as, after 1814, the family may well have been in debt to one or other Rothschild; or it may have been newly aristocratic. The Germans had interests in China, and no doubt Coudenhove-Kalergi the elder would have known of, and/or been part of, such events as the Russo-Japanese war. An Internet source in fact suggests he was pro-Jewish; and a close friend of Theodor Herzl, the founder of Zionism. Whether the Japanese connection was aristocratic, or love, or lust is not known to me. But the son seems to have had little connection with Japan. However, he looked mixed race; it's easy to imagine this must have affected him quite deeply. However, his PhD is in the German idealist tradition, which, in 1917, must have seemed as outdated as Plato. His first book, Nobility, in 1922 may well have seemed obsolete, as Europe collapsed and Jews took over Russia. Coudenhove-Kalergi's idea of 'Europe' seems to have been French-German union: he was not very interested in Britain and the US, nor in eastern European whites. Anyway, in 1924 his potential was spotted by Max Warburg, in a similar way to which Bertrand Russell must have been spotted as an aristocratic ally of Jews and the Jewish 'Labour Party'. Coudenhove-Kalergi, assuming nationalism was the cause of the Great War, failed to notice the huge augmentation of Jewish money brought by, and in fact perhaps explaining, the Great War. Baruch in particular had been something like dictator of the USA in wartime; probably making vast fortunes for himself and his cronies. This was just right for the future: a Jewish-based Europe, similar in constitution to the USSR, was what Jews wanted, and still want. An aristocrat would be less likely than most to favour something more genuinely democratic.
Coudenhove-Kalergi wrote an 'open letter' to Mussolini apparently in 1923 (https://www.unz.org/Pub/LivingAge-1923mar31-00779) praising Italy in vague terms. Naturally there is no indication of his plans for Europe.

A mixed breed himself, he had unscientific reservations and theories about the products of race mixing, I'd guess based on introspection on his own life. '... the urban human hybrid of a number of social and national elements [has] ... the opposite characteristics, prejudices, inhibitions, tendencies and beliefs of his parents and ancestors - these cancel or at least weaken each other. So hybrids often combine character, self-indulgence, weakness of will, impermanence, impiety and perfidy with objectivity, versatility, mental activity, freedom from prejudice and vastness of the horizon. The erotic lifestyle of the inferior will be mediocre. Free love and marriage will be of the elect. The new nobility of the future will not emerge from the artificial standards of human caste, but from the divine laws of erotic eugenics. ...'

He predicted the Eurasian-Negroid race tomorrow, outwardly similar to the ancient Egyptian, [which] will replace the diversity of peoples with a diversity of personalities, after an intermediate stage, the Russian Slavic-Tatar-Finnish mongrel. I think he may have had in mind the French empire, in Africa; and the Asian Mongol types east of Europe. Presumably he expected these to diffuse into each other. I haven't attempted to translate and read his books; the short extract doesn't appear to suggest forced mixing, which Jews have secretly adopted, certainly since 1945, across the whole white ethnosphere.

To show how badly Coudenhove-Kalergi misunderstood Jews, consider this passage; it's obvious from his simple account of 'capitalism' and 'communism' he had no idea of the two-tier money system and the control of paper money (later, e-money) by Jews:-
A crucial step is Russian Bolshevism, where a small crowd of communist spirit aristocrats ruled breaks with the plutocratic democracy that dominates the rest of the world. The struggle between capitalism and communism for the legacy of the defeated aristocracy is bloody fratricidal wars of the victorious brain aristocracy, a fight between individualistic and socialist, selfish and altruistic, pagan and Christian spirit. The general staff of both parties is recruited from the spiritual leader race in Europe: the Jews. Capitalism and communism are both rational, both mechanistic, both abstract, both urban. The nobility of the sword has finally played out. The effect of the mind, the power of the mind, the belief in the spirit, the hope of the mind grows: and with them a new nobility. What the Jews of the average city dwellers differs mainly is that they are inbred people. Strength of character combined with mental acuity predestined the Jews in his finest specimens to be the leader of urban humanity, at the wrong as to the genuine spirit aristocrats, the protagonist of capitalism as the revolution.

This sort of thing is obviously likely to appeal to Jews; 'spirit aristocracy' indeed! No wonder they funded it, after having increased their fortunes enormously during the mass slaughter of the First World War. And this sort of thing was evidently in the air: this is Some Prospects: Cheerful and Otherwise by Bertrand Russell, in the Jewish Daily Forward (1927):
'... But even if a central authority exists the effects will be profoundly different if the world remains capitalistic from what they will be if it has adopted Socialism. In [capitalism] ... there will be that division of castes which we spoke of a moment ago, the upper caste retaining the family, the lower substituting the State for the parents. And there will still be need to produce submissiveness in the lower caste, lest it should rebel against the rich. This will involve a low level of culture, and will perhaps lead the rich to encourage breeding among black rather than white or yellow proletarians. The white race may thus gradually become a numerically small aristocracy, and be finally exterminated by a negro insurrection. ...'
Just like Coudenhove-Kalergi, 3rd Earl Russell had no idea that Jews controlled money and finance, leaving them both of them free to castigate 'capitalism', understood as small businesses struggling to make profits.

I haven't read much of Coudenhove-Kalergi. My impression is he predicted a sort of slow racial diffusion. But possibly the Jewish impulse to exterminate whites by active race-mixing grew from this idea. This is what nationalists recently have interpreted in his writing. Here's an absurd EU write-up omitting everything of importance; its dishonesty certainly suggests cryptic activities behind the scenes:
'On November 16th 2012, the President of the European Council, Herman Van Rompuy, was awarded the Coudenhove-Kalergi Prize ... in Vienna, to celebrate 90 years of pan-European movement. ... [because of] the balanced way in which President Van Rompuy executed his duties in the new position of President of the European Council, which was established by the Treaty of Lisbon. He handled this particularly sensitive leading and coordinating role with a spirit of determination and reconciliation, while emphasis was also given to his skilful arbitration on European affairs and unfailing commitment to European moral values. ... Mr Van Rompuy described the unification of Europe as a peace project. This idea, which was also the objective of the work of Coudenhove-Kalergi, after 90 years is still important. ...'
Nothing at all about the lack of democracy, the Soviet-style constitution, the absurd costs and inefficiencies, the world-wide wars, the Jewish money, the forced unwanted immigration, the need to censor out violent crime and other costs of the imported invaders.
Another easy-to-miss fact is the confusion by Jews of their secret parasitism with intellectual ability. The fact seems to be that Jews have accomplished nothing intellectually; their remarkable achievement is purely a matter of control over money and the funding of wars etc. This of course suited Coudenhove-Kalergi's view of aristocracies: he probably had no knowledge of the need for science and technology and objectivity, showing no sign of understanding their history, much like the present alarmingly dim-witted British monarchy. It's possible the whole of civilisation will decay away because of the probably genetic parasitic hostility and stupidity of Jews and their puppets.

According to the www.balder.org website, Otto von Habsburg was Coudenhove-Kalergi's successor as president of the Pan European Union. He is a honorary professor of the University of Jerusalem, and recipient of the 'International Humanitarian Award', of the 'Anti Defamation-League' (ADL) of the Jewish B'nai B'rith Freemasonry Lodge.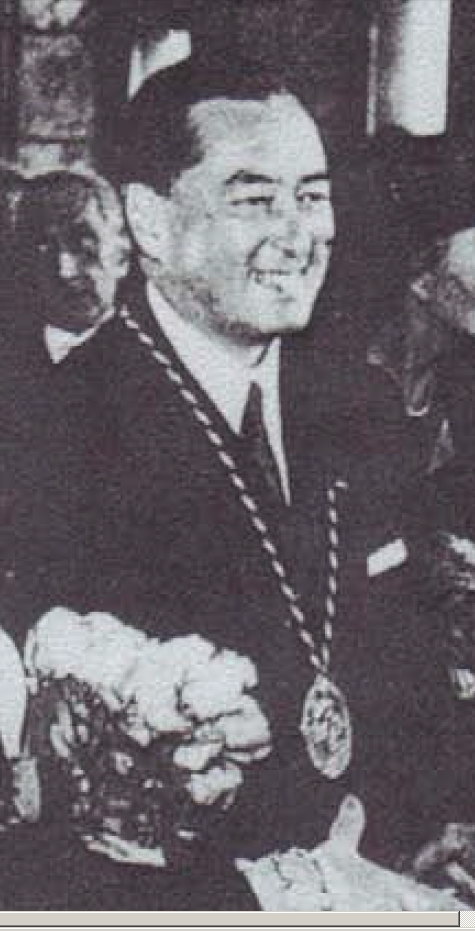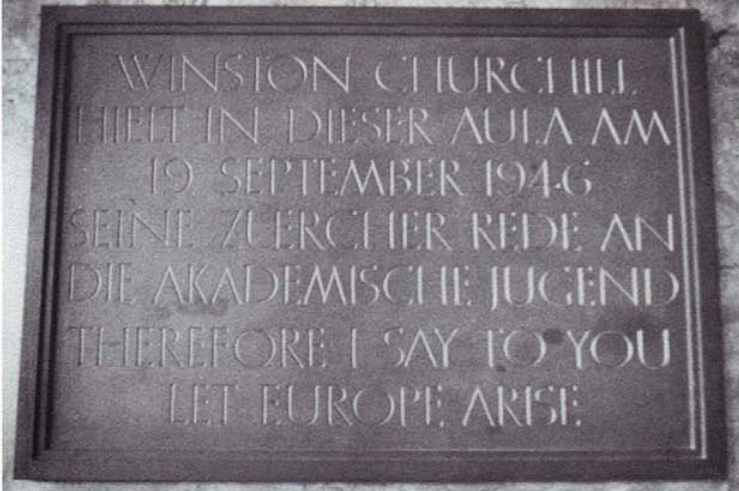 It's no surprise to find he knew Freemasons well. Freimaurer.pdf (download from archive.org). Worth looking at the short document (I think in Swiss German) with a dedication tablet to Churchill's speech in Zürich on the 19th September 1946. In these halls, to the 'academic youth' Churchill said "Therefore I say to you, let Europe arise!" A most stunning piece of atrocious hypocrisy...
---
This web page http://freemasonjabulon.wordpress.com/2012/01/06/graf-richard-nikolaus-coudenhove-kalergi/ gives an account of his life and work and ideas, though obviously the overpowering Jewish presence is omitted. This page states:
In 1932 Richard Coudenhove-Kalergi composed a preface for a new edition of his father's condemnation of antisemitism, reissued by his own publishing house. In 1933 he responded to the ascendance of National Socialism by collaborating with Heinrich Mann, Arthur Holitscher, Lion Feuchtwanger, and Max Brod in writing and publishing the pamphlet Gegen die Phrase vom jüdischen Schädling (Against the Phrase 'Jewish Parasite').
---
Anyone interested in Coudenhove-Kalergi's writings (which are mostly in German) will find some with www.archive.org's search engine. There may well be others. Expect poor translations and evasive material.
---
There are some downloadable English translations, and Kindle downloads, but I haven't verified these carefully.
This is a 2006 version of the rather short Europe Must Unite which has a lot of emphasis on Swiss-style federation and democracy; naturally the EU now bears little relation to this model.
George Soros displays his loveable soul:
"To feel and even think that the white race is inferior in every conceivable plane is natural, given its history and current documents. Let the white race west country perish in blood and suffering. Long live the multicultural, racially mixed and classless ecological society! Long live anarchy!" -- Nya Dagbladet, Judisk miljardär bakom stöd till invandrargrupper Publicerad -- 9 maj 2014.
Barbara Spectre (Israeli TV 2010?):
"I think there's a resurgence of anti-Semitism because at this point in time Europe has not yet learned how to be multicultural, and I think we're gonna be part of the throes of that transformation, which must take place. Europe is not going to be the monolithic societies that they once were in the last century. Jews are going to be at the center of that. It's a huge transformation for Europe to make. They are now going into a multicultural mode, and Jews will be resented because of our leading role. But without that leading role, and without that transformation, Europe will not survive."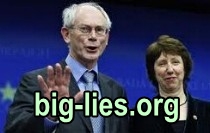 Some EU masterminds?
CONTENTS of PRACTICAL IDEALISM in English for quick reference
FOREWORD
RUSTIC AND URBAN PEOPLE
1. COUNTRY MEN - CITY PEOPLE/ 2. JUNKER - WRITER/ 3. GENTLEMAN - BOHEMIAN/ 4. INBREEDING - INTERSECTION/ 5. PAGAN AND CHRISTIAN MENTALITIES
CRISIS OF NOBILITY
6. MIND INSTEAD OF SWORD RULE/ 7. NOBLES DAWN/ 8. PLUTOCRACY/ 9. NOBLE BLOOD AND FUTURE NOBILITY/ 10 JUDAISM AND FUTURE NOBILITY/ OUTLOOK
APOLOGY OF TECHNOLOGY [1922]
I. THE LOST PARADISE
1. THE CURSE OF CULTURE/ 2. DEVELOPMENT AND FREEDOM/ 3. OVERPOPULATION AND MOVEMENT NORTH/ 4. COMPANY AND CLIMATE/ 5. EXEMPTION ATTEMPTS OF MANKIND
II. ETHICS AND TECHNOLOGY
l. THE SOCIAL QUESTION/ 2. INADEQUATE POLICY/ 3. STATE AND WORK/ 4. ANARCHY AND LEISURE/ 5. OVERCOMING THE STATE AND WORK/ 6. ETHICS AND TECHNOLOGY
III. ASIA AND EUROPE
1. ASIA AND EUROPE/ 2. CULTURE AND CLIMATE/ 3. THE THREE RELIGIONS/ 4. HARMONY AND STRENGTH
IV. EUROPE'S TECHNICAL WORLD MISSION
1. THE EUROPEAN SPIRIT/ 2. HELLAS AS BEFORE - EUROPE/ 3. THE TECHNICAL BASIS OF EUROPE/ 4. THE TECHNICAL WORLD REVOLUTION/ 5. EUROPE AS A CULTURE TANGENT/ 6. LEONARDO AND BACON
V. HUNT - WAR - WORK
1. MIGHT AND FREEDOM/ 2. HUNTING/ 3. WAR/ 4. WORK/ 5. THE WAR AS ANACHRONISM/ 6. TECHNOLOGY
VI. THE CAMPAIGN OF SKILL
1. EUROPE'S MASS MISERY/ 2. COLONIAL POLICY/ 3. SOCIAL POLICY/ 4. THE TECHNICAL WORLD REVOLUTION/ 5. THE ARMY OF TECHNOLOGY/ 6. THE ELECTRICAL VICTORY/ 7. THE INVENTOR AS SAVIOUR
VII ULTIMATE GOAL OF TECHNOLOGY
1. CULTURE AND SLAVERY/ 2. THE MACHINE/ 3. DEGRADATION OF THE GREAT CITY/ 4. THE CULTURE OF PARADISE FOR MILLIONAIRES
VIII. THE SPIRIT OF THE TECHNICAL AGE
1. HEROIC PACIFISM/ 2. THE SPIRIT OF INERTIA/ 3. BEAUTY AND TECHNOLOGY/ 4. EMANCIPATION/ 5. CHRISTIANITY AND KNIGHTLINESS RITTERDOM CHIVALRY?/ 6. THE BUDDHIST DANGER
IX. [HUGO] STINNES AND [L.B.] KRASSIN
1. ECONOMIC STATES/ 2. THE RUSSIAN FIASCO/ 3. CAPITALIST PRODUCTION AND COMMUNIST/ 4. MERCENARIES AND SOLDIERS OF WORK/ 5. SOCIAL CAPITALISM - LIBERAL COMMUNISM/ 6. TRUSTS AND UNIONS
X. FROM WORKING STATE TO STATE CULTURE
l. CHILDREN CULT/ 2. WORK REQUIRED/ 3. PRODUCERS AND CONSUMERS STATE/ 4. REVOLUTION AND TECHNOLOGY/ 5. HAZARDS OF TECHNOLOGY/ 6. THE ROMANCE OF THE FUTURE
PACIFISM 1924
1. TEN YEARS OF WAR/ 2. REVIEW OF PACIFISM/ [3. Omitted from the original]/ 4. REFORM OF PACIFISM/ 5. WORLD PEACE AND EUROPEAN PEACE/ 6. REAL POLITICAL PEACE PROGRAM/ 7.PROMOTING PEACE THOUGHT/ 8. PEACE PROPAGANDA/ 9. NEW HEROISM
[big-lies.org
nukelies.org]



Inserted later From OccidentalObserver.net
'Seraphim' on April 29, 2015 8:06 pm

@Count Coudenhove-Kalergi (and miscegenation),

Despite the fact that: "The Coudenhoves were a wealthy Flemish family that fled to Austria during the French Revolution… the line has been further crossed with Poles, Norwegians, Balts, French and Germans, but since the families were selective as well as cosmopolite, the hybridization has been consistently successful", therefore a typical White European (and Nordic, at that) aristocracy, the Count in question (Richard-Nikolaus), married the "famous Viennese actress Ida Roland" in April 1915. "His marriage to a divorcée thirteen years his senior and a commoner, caused a temporary split with his family", as Wikipedia puts it shyly. In fact Ida Roland was born Ida Klausner, and not your common commoner, but a Jewess. Ida Roland died in 1951. In 1952 he married Alexandra Gräfin von Tiele, born Bally (Jew). In 1969 he married the Austrian Jewess Melanie Benatzky Hoffmann.

Coudenhove-Kalergi's father was a close friend of Theodor Herzl, the founder of Zionism. Although an allegedly devout Catholic, the old count allegedly rose on every Good Friday, as the liturgy came to the exhortation "oremus et pro perfidis Judaeis" ("Let us also pray for the faithless Jews") and walked out of the church in a protest against this supposed expression of antisemitism!

Some more about the distinguished EU aristocracy:
"Count R. N. Courdenhove-Kalergi is seen by many as the father of the modern European Union. It was him who suggested Beethovens hymn as the EU's national anthem, and was very active in connection with the design of the EU logo which contains 12 stars which symbolize the 12 tribes of Israel. The logo was finalized by the Jew Paul M.G. Lévi." (http://balder.org/judea/Richard-Coudenhove-Kalergi-Practical-Idealism-Vienna-1925.php).

In 1922, he co-founded the Pan-European Union (PEU) with Archduke Otto von Habsburg, as "the only way of guarding against an eventual world hegemony by Russia".

Otto von Habsburg was Coudenhove-Kalergi's successor as president of the Pan European Union. He is a honorary professor of the University of Jerusalem, and recipient of the 'International Humanitarian Award', of the 'Anti Defamation-League' (ADL) of the Jewish B'nai B'rith Masonery Lodge. (Wikipedia)

According to his [Coudenhove] autobiography, at the beginning of 1924 he came through Baron Louis de Rothschild in contact with Max Warburg who offered to finance his movement for the next 3 years giving him 60,000 gold marks; Warburg eventually remained sincerely interested in the movement for his entire life and served as an intermediate man as to bring him in contact with influential personalities in America such as banker Paul Warburg and financier Bernard Baruch accompanying him there (Warburg, Baruch, the bankrollers of Trotzky, Lenin…).

"Finance theorist Ludwig von Mises (supported by a grant from the Rockefeller Foundation) also participated in Coudenhove-Kalergi's Pan-European Movement.

Later von Mises disciples Arthur Burns and Milton Friedman spread von Mises ideas through a network of secret 'conservative' think tanks, led by the Mont Pelerin Society". (http://balder.org/judea/Richard-Coudenhove-Kalergi-Practical-Idealism-Vienna-1925.php)

And make no mistake. The alliance of the Sword Nobility and the Finance Jews is as old as the "Europe" of Charlemagne, and they both worked against the Church to reintroduce slavery.

[big-lies.org
nukelies.org]
HTML, scanning, reading etc Rae West - Uploaded 2014-06-27